A professional approach to secure your data and transactions
– efficiently and automatically!
Have you ever thought about how easy it is to accidentally change central master data such as customer and supplier data or product and bank information in the company's ERP system? Errors that are hard to find and take a long time to correct?
Fortunately, there is now an easy solution for preventing errors and unintended changes. The name of the solution is Four-Eyes Approval and it provides extra security for companies looking to avoid unpleasant surprises.
Protects against errors and fraud
Four-Eyes Approval is a unique system that provides extra security and protects basic master data in the company's ERP system against unintentional errors and, in extreme cases, fraud.
Extra security for your business
The tool can be purchased for and used with Microsoft Dynamics 365 Business Central and Dynamics NAV. With Four-Eyes Approval, any time someone makes a change in master data, a change that has been predefined as significant, another set of eyes—i.e., another person—is needed to approve the change made.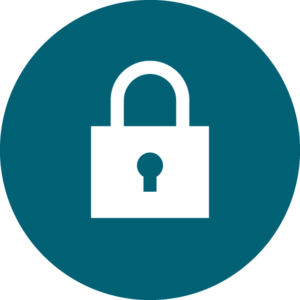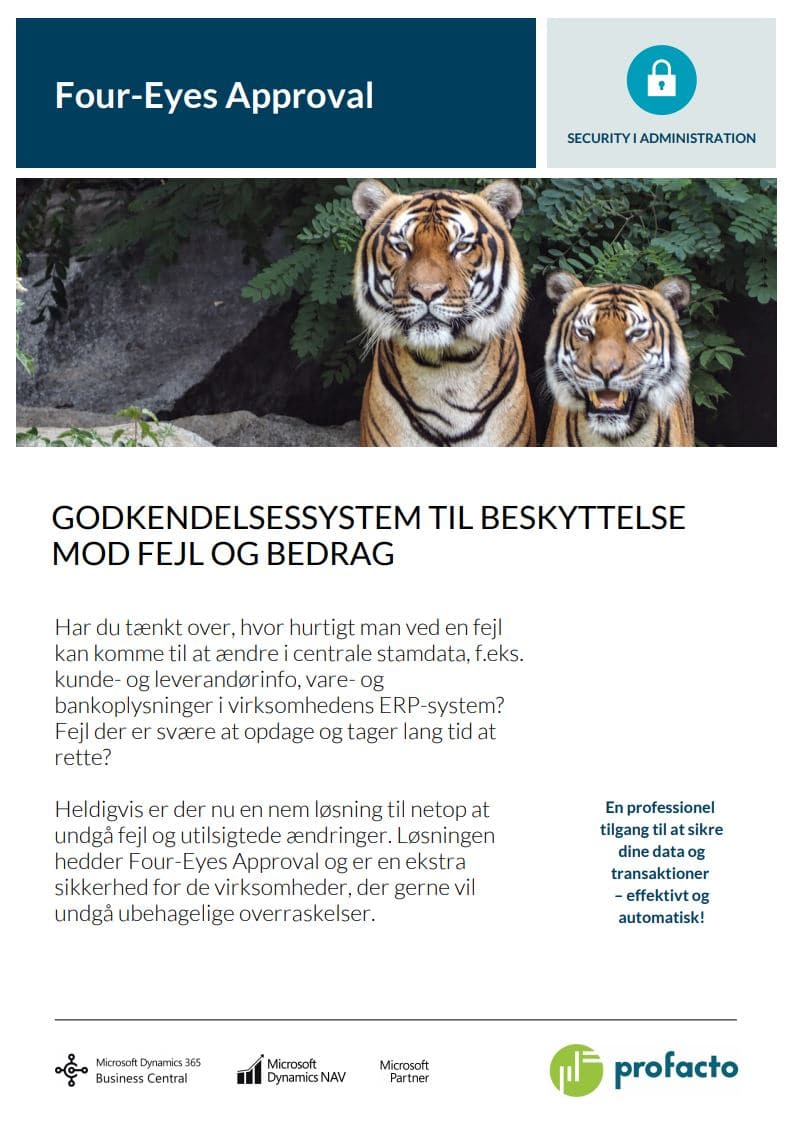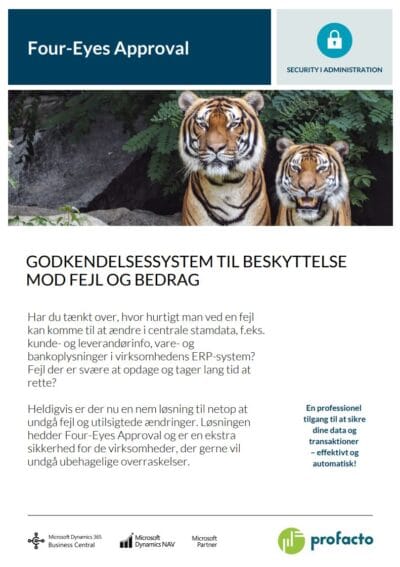 Four-Eyes Approval is easy to set up in Business Central or NAV. In the setup process, you define which fields are "significant" and require monitoring. This can include, for instance, bank information, credit limit and supplier information. At the same time, you can exclude other fields from monitoring, such as email address and phone number.
Log and notification of changes
Four-Eyes Approval works by blocking an account immediately if anyone changes information, such as a customer's bank information. It then sends a notification of the changes made that require approval by a second person. The second person must go in and approve the changes before they can become effective. This can be done directly in the system.
Learn more about the Four-Eyes Approval
"It takes a split second to make a change in Dynamics 365 Business Central or NAV. But it takes ten times as long to find out where the error was made and to correct it. You can avoid this using Four-Eyes Approval."
Peter Kretzmann, Head of Development
ProFacto A/S